Rain Gutter Installation Methods
Advanced Rain Gutter Systems installs 5" seamless aluminum gutters. By far, aluminum material is the best material for rain gutters. Seamless gutters are quickly produced right at your home by our gutter machine that makes perfect custom fit gutters every time. They are attached every 2-foot on center, using hanger method.
Downspouts are either 2x3 or 3x4 size. Each one has an outlet inserted for safety. Some company's uses a method were they cut an X in the gutter and fold it over into the downspout hole. This can be very dangerous for the home owner if they ever need to clean out the downspout. All of our downspouts are fastened together using ¼ "hex head pre-painted screws. This allows the homeowner to take the downspout apart (unlike down spouts that are fastened with rivets) if it ever needs to be cleaned.
Corners
Each of our corners is made with a pre-constructed miter allowing a tapered finished look to your custom gutter. These are the sealed using sealant for maximum water tightness.
Flashing
The back of new gutter will be installed behind existing drip edge flashing. If home does not have existing drip edge flashing the home owner may choose to add drip edge flashing when we install the gutters.
Aluminum gutters are installed to the perfect length of the area in one seamless piece. Often homeowners will add leaf protection as well.
Rain Gutter Accessories
Leaf Screen
Flex pipe extensions
Concrete Splash blocks
Rain Gutter Colors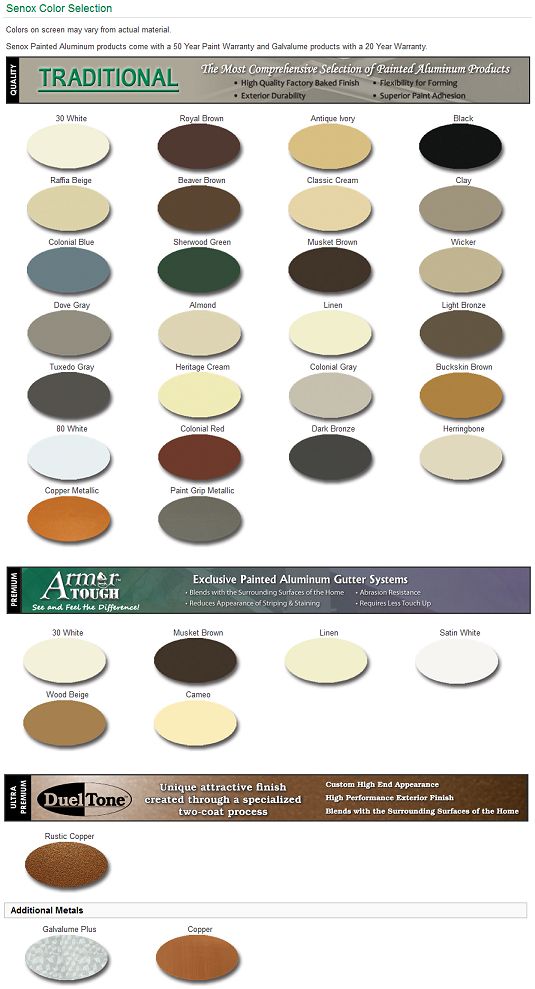 We are not a high pressure sales company.
Our sales man will not try to sell you something you don't need. The majority of our work comes from referrals of other satisfied customers. We pride our company in honesty, integrity and doing the job right the first time. We are an owner-operated, residential gutter specialist. We offer a variety of colors, plus an installation & materials warranty. We are insured for your protection.
Call or E-mail for a free estimate today!